La cámara Tiandy 2mp tiene las series Lite, Pro y Ultra tres, cuando se inició el diseño de los productos, todos los detalles fueron considerados por completo por el diseñador, para brindar al cliente la mejor experiencia de usuario. En comparación con un competidor amigable como la cámara de bala ip Hikvision 2mp ip y la cámara de bala dahua 2mp ip, tiene un mejor rendimiento de costos. Esta serie de cámaras tipo bala obedece al concepto de alta configuración para el usuario con pocos costos, ya que la lente motorizada de 2.8-12 mm proporciona al usuario imágenes más nítidas y claras que jamás haya experimentado.
1.características

Carcasa de metal completo.
· Lente motorizada 2.8-12 mm
· Hasta 1920x1080 30 fps
· S + 265 / H.265 / H.264
· Min. Color de iluminación: 0.02Lux F1.6
· IR inteligente, rango IR: 80m
· Soporte tripwire y perímetro
· Micrófono incorporado, ranura para tarjeta SD, botón de reinicio
· Condiciones de funcionamiento -35 ° ~ 65 °, 0 ~ 95% HR
· POE, IP67
2.Dimensiones

3. Detalles del producto

4 especificación
Camera


Image Sensor
1/2.9" CMOS
Signal System
PAL/NTSC
Min. Illumination
Color: 0.02Lux@ (F1.6, ACG ON), B/W: 0Lux with IR
Shutter Time
1s to 1/100,000s
Day & Night
Dual IR Cut Filter with Auto Switch
Wide Dynamic Range
Digital WDR
Angle Adjustment
Bracket, pan 0~360°, tilt 0~75°, roate 0~360°
Lens


Lens Type
Motorized
Focus
2.8-12mm
Lens Mount
Φ14
Aperture
F1.6~F3.3, Fixed
FOV
Horizontal field of view: 98°~28°
Illuminator


IR LEDs
4
IR Range
Up to 80m
Wavelength
850nm
White LEDs/Warmlights
N/A
Compression Standard


Video Compression
S+265/H.265/H.264
Video Bit Rate
32Kbps~6Mbps
Audio Compression
G.711/G.711U/ADPCM
Audio Bit Rate
8K~48Kbps
Image


Max. Resolution
1920x1080
Main Stream
PAL: 25fps (1920×1080, 1280×720, 704×576, 640×480)
NTSC: 30fps (1920×1080, 1280×720, 704×480, 640×480)
Sub Stream
PAL: 25fps (704×576, 704×288, 640×360, 352×288)
NTSC: 30fps (704×480, 704×240, 640×360, 352×240)
Third Stream
N/A
Image Setting
Saturation, brightness, contrast, sharpness, adjustable by client software or web browser
Image Enhancement
BLC/3D DNR/HLC
ROI
N/A
OSD
16×16, 32×32, 48×48, adaptable size, Letters Such as Week, Date, Time, Total 3 Regions
Picture Overlay
N/A
Privace Mask
Yes, 4 regions
Smart Defog
Yes
Feature


Alarm Trigger
Motion Detection, Mask Alarm, IP Address Conflict
Video Analytics
Tripwire, Perimeter
Early Warning(EW)
N/A
Network


ANR
Yes, auto store video in SD card when NVR disconnected, and upload video to NVR
when resumed connection (Only Support Tiandy ANR NVR)

Protocols
TCP/IP, HTTP, FTP, DHCP, DNS, DDNS, MULTICAST, IPV4, NTP, UDP, Telnet
System Compatibility
ONVIF (PROFILE S/T/G), SDK, CGI (IE), P2P(Mutually exclusive with Profile G)
Remote Connection
≤7
Client
Easy7, EasyLive
Web Version
Web5
Interface


Communication Interface
1 RJ45 10M/ 100M self adaptive Ethernet port
Audio I/O
Mic in
Alarm I/O
N/A
Reset Button
Yes
On-board storage
Built-in MicroSD card slot, up to 512 GB
General


Firmware Version
-
Web Client Language
16 languages
English, Russian, Spanish, Korean, Italian, Turkish, Simple Chinese, Traditional Chinese, Thai,
French, Polish, Dutch, Hebraism, Farsi, Arabic, Vietnamese

Operating Conditions
-35℃~65℃, 0~95% RH
Power Supply
DC 12V±25%, PoE (802.3af)
Power Consumption
MAX: 9W (12V) MAX: 10W (PoE)
Protection
IP67, Lightning protection, surge protection and voltage transient protection meets EN 55035:2017
Heater
N/A
Dimensions
239×90×90mm (9.41×3.54×3.54inch)
Weight
0.9Kg (1.98lb)
5.Productos relacionados
Cámara IP Bullet 2mp
TC-C32WN Especificaciones: I5 / E / Y / (M) /2.8mm/4mm
TC-C32WP Especificaciones: I5 / E / Y / (M) /2.8mm/4mm
TC-C32UN Especificaciones: I8 / A / E / Y / M / 2.8-12mm
TC-C32DP Especificaciones: W / E / Y / 4mm
TC-C32JS Especificaciones: I5 / E / M / N / 2.8mm / 4mm

TC-C32WS Spec: I5 / E / Y / M / 2.8mm / 4mm
TC-C32WS Spec: I5 / E / Y / M / H / 2.8mm / 4mm
Especificaciones TC-C32UP: W / E / Y / M / H / 4mm
TC-C32TS Spec: I8 / A / E / Y / M / H / 2.7-13.5mm
TC-C32TP Especificaciones: I8 / A / E / Y / M / H / 2.7-13.5mm
TC-C32BG Especificaciones: I5W / E / 4mm
TC-A32L4 Especificaciones: 1 / A / E / 2.8-12mm

6. Casos exitosos
Nación segura en Ecuador

Queremos un país pacífico

Ecuador, un hermoso país se encuentra a lo largo del Océano Pacífico, con 16 millones de personas y ricos recursos naturales. La inseguridad y la falta de paz fueron el mayor obstáculo para el rápido desarrollo. Con una fuerte ambición por desarrollar su economía y ofrecer un entorno de vida seguro y pacífico a sus ciudadanos, el gobierno de Ecuador busca un sistema de vigilancia profesional.
Tiandy es tu elección

Los socios de Tiandy ofrecen una solución completa para este hermoso país, llamado "proyecto de país seguro", aplicaron 300 juegos de TC-NH6218, 2 juegos de TC-R31680 y 10 TC-R3420 para ofrecer la mejor y completa protección a su gente, el Los principales cruces se instalan Tiandy PTZ para tener una vista panorámica para evitar posibles delitos o registrar accidentes en curso. Este es un gran proyecto y parte de él ya se ha puesto en uso.

Ahora, una parte importante se ha puesto en funcionamiento y ha estado protegiendo a sus ciudadanos. ¡En 2015, la tasa de asesinatos en Ecuador alcanza el punto histórico más bajo! Estamos contentos de ver los logros en Ecuador y nos comprometemos a traer más avances para las industrias de vigilancia de seguridad para cumplir con nuestra misión de "Visión para el Mundo!"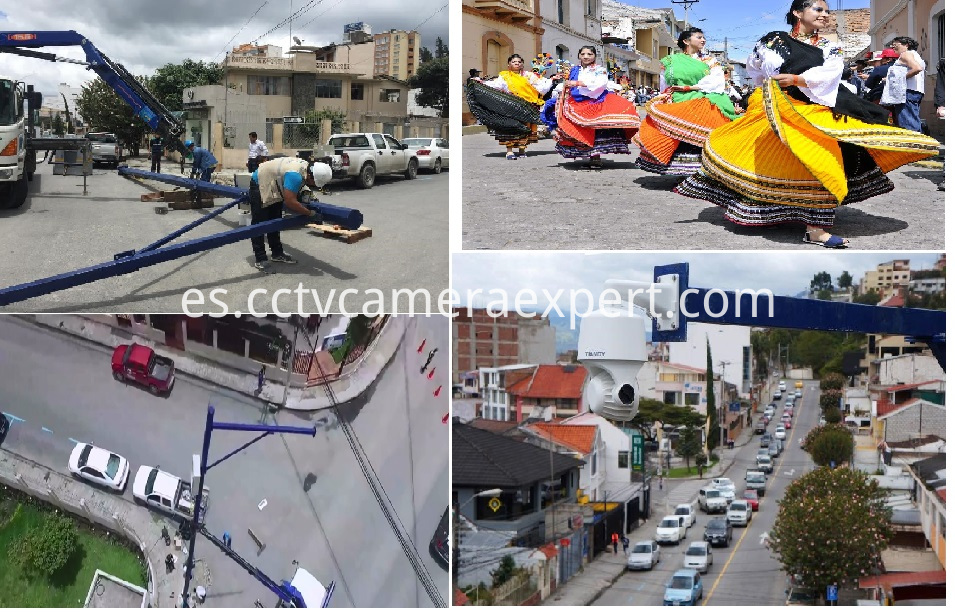 7.Obtener el mejor precio